Our INTERNATIONAL RALLIES for specific types of car on Original 1950s Rally Routes are UNIQUE:
RIGHT NOW we are working on the Diamond Jubilee Liège-Brescia-Liège for microcars on July 11-22, 2018!
In Spring 2019, we will take Jaguar XKs and E-types to Greece and Crete on the Mycenaean-Minoan Rally.
And on July 11-21, 2019, Triumph TRs will get a unique chance to join the fun on the TR Register Liège-Brescia-Liège Rally.
If you would like more information on any of these events, or if you would like YOUR marque to be chosen for future years, let us know: Click here to email us for more info.
Please note we now have a FACEBOOK page, and are on Instagram: see you there!
Jaguars to Greece & Crete, March 31- April 17, 2019

After the great success of the 2012 LBL for members of the Jaguar XK and E-type Clubs, for 2014 we took the same two Clubs to the Pyrenees and northern Spain - and our next trip will be to Greece and Crete. See Newsletters for more info

We can recommend ways to get you and your car to and from the start, which will be at the port of Igoumenitsa in the NW corner of Greece where the ferries from Italy land. We have a solution for UK and northern European entrants that should see you in Greece from the start less than 48 hours from leaving home, and returning in under 72 hours - we will be following the same route ourselves, as will our RAC Rescue support crew.

From Igoumenitsa, we spend a couple of days exploring the beautiful lakes and mountains of the north-west, staying at a delightful lakeside hotel with lake view rooms for all. Then we head east to Greece's co-capital, Thessaloniki, staying in a beautiful hotel right in the main square of this vibrant, historic city and exploring the many breathtaking sites around. From there we head to central Greece - taking in the unmissable Delphi - and back west to cross on specially-commissioned ferries to the delightful islands of Kephalonia and Zakynthos.

Next on route is the Peloponnese, the southern part of Greece and home of the Mycenaeans: here we will fill the two small hotels in a breathtaking castle village, on a promontory jutting out into the Mediterranean. After two nights there, we take the Superfast ferry to Crete...

Wonderful Crete, stunning scenery, fascinating history, glorious beaches and more deserted, delightful roads. We have even found a Stelvio-beating hairpin road winding from the seaside to 800m, super-smooth tarmac, wide and empty... Home of the Minoans, Crete is full of fascinating historic sites too, and we have two delightful hotels lined up, one right on the harbour at Chania and the other at Heraklion.

We will return overnight to Athens and one of its finest hotels, with stunning views of the Parthenon and time to explore this cosmopolitan city of living history. Stay on if you wish, or return with us to Igoumenitsa and on, via Italy, back home - full of memories that will last a lifetime.


Liège-Brescia-Liège Diamond Jubilee

JULY 11-22, 2018: it's the Microcars' turn again!


For the Diamond Jubilee of the original Liège-Brescia-Liège we go back to our roots with the ultimate rally for microcars. This unmissable event will relive the joys and challenges of our first event in 2008 - see here - CLICK HERE TO VIEW IT!

The principal event will be for exactly the same cars and classes as in 1958 and the only cars eligible will be those of a type identical to cars that would have been eligible in 1958 - up to 500cc with classes for up to 250cc and up to 350cc - plus three-wheel versions if mechanically identical (due to the vagaries of international competition rules, in 1958 3-wheelers couldn't compete against 4-wheelers - well, they can in our events!). That's all Berkeleys other than B95/105s, Messerschmitt KR200s and Tigers, Isettas, Heinkels, Zundapp Januses, Friskies, suicide-door Fiat 500s, early 2CVs, Isard/Goggomobil 300s and 400s, and more

There will be a secondary event run alongside, but entirely separate with its own prizes, for microcars in the spirit of the original event but a bit later, or with larger engines up to 700cc - all later Fiat 500s and 600s, later Citroen 2CVs, Berkeley B95s/105s, BMW 600s and 700s, and many more.

Start preparing your microcar now for this truly unmissable adventure!!

Get your Entry Form and Regulations, and get your name on the list - email us now!

The route for Liège-Brescia-Liège 2018 runs from Liège to Liège via Karlsruhe, Misurina, Ljubljana, Carezza, Brescia, Merano, Bernried and Bretten, with lots of navigational challenges, interesting visits and fun circuit tests along the way. Read what competitors said about the last event HERE...
In July 1958, 54 pioneers in 27 tiny cars set out from Liège in Belgium in a brave attempt to prove that the new breed of tiny-engined cars, made popular by the Suez crisis two years earlier, were not just toys but could do everything their bigger sisters could do – and much more economically.

The schedule was staggering. Cars would leave Belgium on Thursday evening, travel all night through Germany, cross the Alps via Austria then head east through the Dolomites into Yugoslavia, tackling many notorious loose-surfaced mountain passes on the way. Still without stopping except for fuel and snatched refreshment, they would turn around at Ljubljana and return through the Dolomites to tackle Europe's most challenging mountain pass, the Stelvio, descending south to Brescia.
There, the cars went into parc fermé, meaning they could not be worked on, for eight hours while the crews had a little rest (assuming, of course, that they arrived on time – none did) before heading back north up the Gavia pass and down the Stelvio, then up over the Alps, Austria and Germany, back to Liège, arriving Sunday evening. That's over 2000 miles of flat-out driving, averaging well over 30mph through three nights in tiny cars with engines as small as 250cc. Just 13 of the 27 starters made it...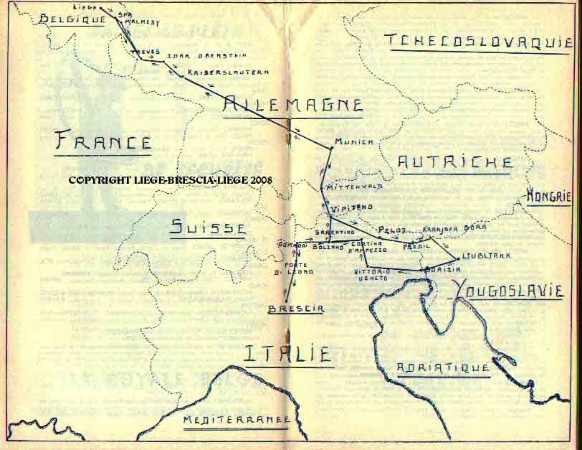 For 2008, we created a celebration rally over the exact same route (right), for the same cars plus slightly later cars in the same spirit up to 700cc. 54 - double the number in the original rally - started from Liege on July 11, 2008, navigating from Michelin maps provided and quickly learning our innovative route checking system that ensures you follow the correct route, or pick up penalties for taking the wrong roads...

This was no easy cruise - torrential rain through Belgium, Germany, Austria, Italy and Slovenia added to the strain on the first four days, but crews and cars rose to the challenge. The sun finally joined us in Ljubljana and stayed with us to the end of the rally. Cars that could have been eligible for the original event competed in 250/350/425/500cc classes in the Authentic category; slightly later and larger engined cars competed in 425/500/600/700cc classes in the Spirit category.

"Fantastic", "unforgettable", "wonderful", "the best rally ever" and "a life changing event" are just some of the many tributes that have been paid by competitors on the 2008 event...

See the LBL08 page for full results and more photos.

On July 11-22 2018, the Liège-Brescia-Liège Rally will take 10 days (with a day off mid-event in lovely Ljubljana) to follow the same route as in 1958, 60 years after the original rally, and will be enjoyed by significantly more microcars than took part in the original 1958 event. This touring event will cover approximately 200 miles (330km) each day, with competitive tests on private tracks in Slovenia, Italy and Germany combining with sheer endurance to establish worthy winners. Crews will plot the route on Freytag & Berndt and Michelin maps from the original list of place names, adding navigation to the challenge. Further interest will be added by visits to the charming Boxenstop Museum at Tubingen, the National Technical Museum of Slovenia at Vrhnika, the newly revamped motor museum at Engstingen, the personal collection of Italian engineer Gino Tonutti near Udine, the superb car collection of motoring writer Fritz Busch, housed in a magnificent castle in Germany, and the stunning Schloss Lichtenstein...


We will stay at the very best hotels along the route, several five star and almost all the rest four star. In Brescia, we will stay in the spectacular Villa Fenaroli Palace (below) - we believe that classic car rallying should be challenging, but there is no need for roughing it: at the end of a hard day's driving, navigating and sight-seeing, we want to see you relax and enjoy yourselves! See the Links page for all the hotels we use, and some we have used in the past.