COVID-19 RESPONSE: We take the safety of participants and risk of spreading infection very seriously. We postponed our 'The Craic' rally around Ireland from May 2020 to May 2022 and this had a knock-on effect: the Mycenaean-Minoan Rally moved from April 2021 to April 2024, and the Scottish Islands & Highlands Rally from May 2022 to May 2023. MG Liège-Brescia-Liège moved from July 2020 to July 2022.
Our INTERNATIONAL RALLIES for specific types of car on Original 1950s Rally Routes are UNIQUE:

Read the most recent independent report on one of our events, the very competitive 2019 Liège-Brescia-Liège for Triumph TRs, here (CLICK)
On May 8-21, 2022 we will take Jaguar XKs & E-types (plus a few complementary classics) to circumnavigate Ireland on The Craic...
In July 2022, all models of MG will have a chance in a lifetime to enjoy our legendary Liège-Brescia-Liège Rally
On May 7-23, 2023, we'll take Jaguars and other classics on a brilliant new adventure, visiting 21 Scottish islands on the Islands & Highlands Rally.
On April 7-25, 2024, we will take all classic cars to Greece, Kefalonia & Crete on the Mycenaean-Minoan Rally...
If you would like more information on any of these events, or if you would like YOUR marque to be chosen for future years, let us know: Click here to email us for more info.
Please note regular updates and latest news can be found on our FACEBOOK page: see you there!
'The Craic' 2022

MAY 8-21, 2022: Jaguar XKs & Es around Ireland!

For Jaguar XKs, E-types and a few complementary classics, 'The Craic' is a comprehensive 'Circuit of Ireland' rally taking in all the magnificent coastline of Ireland. Starting and finishing in Dublin, we circumnavigate the Emerald Isle clockwise, staying at Wexford, Killarney, Galway, Donegal and Belfast, with at least two nights in all hotels. Following our well-loved format of fun competition, there are trophies to be won for the best navigation and a few special tests on circuits along the way, but fundamentally this is a great way to explore all Ireland and enjoy stunning scenery and great company.

The rally is almost full - just TWO PLACES LEFT!

Contact us NOW for the full brochure!

MG Liège-Brescia-Liège 2022

JULY 6-17, 2022: MGs pre-war and post to the Dolomites!

Britain's best-loved sports cars follow the original Liège-Brescia-Liège route - but not flat out as in the 1950s, this time it's split up over 10 days, with fine hotels, interesting visits, great camaraderie and a day off in beautiful Ljubljana.

Now's your chance to compete against fellow MG owners, on historic rally routes in stunning Alpine scenery, with fascinating visits and great hotels along the way. This is a unique opportunity, the only rally ever run exclusively for MGs!

You can read daily reports of past events on Facebook: www.facebook.com/LBLRallies

The route for Liège-Brescia-Liège runs from Liège to Liège via Karlsruhe, Munich, Misurina, Ljubljana, Carezza, Brescia, Merano, Bernried and Bretten, with lots of navigational challenges, interesting visits and fun circuit tests along the way.

If you would like to compete, email us now for the Regs and Entry Form!

Islands & Highlands Rally 2023

MAY 8-25, 2023: Scotland's breathtaking islands!


Open to Jaguar XKs & E-types, Triumph TRs and complementary classics, this stunning event sets out to explore the Scottish Islands as never before, in a fun-competitive rally taking in up to 21 different islands from the Outer Hebrides to Shetland, along with the most stunning NW corner of the Scottish mainland.

We meet at Ardrossan on Sunday May 7, 2023 and on Monday 8 set off to Arran, Mull of Kintyre, Tuesday 9 Islay, Weds 10 Jura, Thurs 11 Seil, Mull, Iona, Fri 12 Skye, Sat 13 Raasay, Sun 14 North Uist, Benbecula, South Uist, Eriskay, Barra, Mon 15 Berneray, Harris, Lewis, Tues 16 Great Bernera, Weds 17 mainland,Thurs 18 South Ronaldsay, Orkney, Fri 19 Rousay, Sun 21 Shetland, Tues 23 overnight back to Aberdeen...

Entries are already flooding in and the entry list is almost full, so...

Get your Entry Form and Regulations, and get your name on the list -

email us now!

Mycenaean-Minoan Rally 2024

APRIL 7-25, 2024: open to all classics!


Following the great success of the Mycenaean-Minoan Rally 2019, we are delighted to announce the second competitive rally exploring all the wonderful sights, sounds, tastes and wonders of Greece, the Ionian islands and Crete.

There is SO much more to Greece than most people realise, and this trip reveals all its glorious secrets in a thoroughly enjoyable way - the wonderful, winding, empty roads, the fascinating archaeological remains, the breathtaking views of coastlines and mountains, the charming people, the excellent cuisine, the beautiful spring flowers, the stunning scenery, the outstanding hotels...

Get your Entry Form and Regulations, and get your name on the list -

The route for Mycenaean-Minoan Rally 2024 runs from Igoumenitsa to Athens, tracking first across the deserted, stunning northern mountains to Thessaloniki, then down through central Greece via Delphi to the Ionian islands with a delightful rest day on Kefalonia, then explores the Peloponnese (inc Olympia and Mycenae) while staying at incredibly historic Monemvasia, then ferry to Crete to explore this stunning island and all its treasures, before returning by Ferry for a gala dinner overlooking the Acropolis, with time to explore the city. Enjoy lots of navigational challenges, interesting visits and fun circuit tests along the way. See how everyone enjoyed the last event here...
In July 1958, 54 pioneers in 27 tiny cars set out from Liège in Belgium in a brave attempt to prove that the new breed of tiny-engined cars, made popular by the Suez crisis two years earlier, were not just toys but could do everything their bigger sisters could do – and much more economically.

The schedule was staggering. Cars would leave Belgium on Thursday evening, travel all night through Germany, cross the Alps via Austria then head east through the Dolomites into Yugoslavia, tackling many notorious loose-surfaced mountain passes on the way. Still without stopping except for fuel and snatched refreshment, they would turn around at Ljubljana and return through the Dolomites to tackle Europe's most challenging mountain pass, the Stelvio, descending south to Brescia.
There, the cars went into parc fermé, meaning they could not be worked on, for eight hours while the crews had a little rest (assuming, of course, that they arrived on time – none did) before heading back north up the Gavia pass and down the Stelvio, then up over the Alps, Austria and Germany, back to Liège, arriving Sunday evening. That's over 2000 miles of flat-out driving, averaging well over 30mph through three nights in tiny cars with engines as small as 250cc. Just 13 of the 27 starters made it...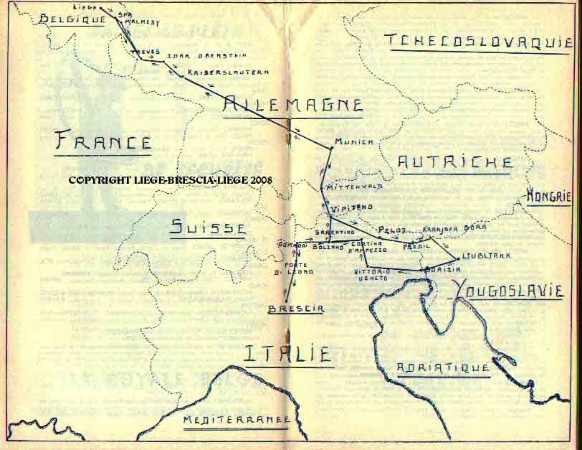 For 2008, we created a celebration rally over the exact same route (right), for the same cars plus slightly later cars in the same spirit up to 700cc. 54 - double the number in the original rally - started from Liege on July 11, 2008, navigating from Michelin maps provided and quickly learning our innovative route checking system that ensures you follow the correct route, or pick up penalties for taking the wrong roads...

This was no easy cruise - torrential rain through Belgium, Germany, Austria, Italy and Slovenia added to the strain on the first four days, but crews and cars rose to the challenge. The sun finally joined us in Ljubljana and stayed with us to the end of the rally. Cars that could have been eligible for the original event competed in 250/350/425/500cc classes in the Authentic category; slightly later and larger engined cars competed in 425/500/600/700cc classes in the Spirit category.

"Fantastic", "unforgettable", "wonderful", "the best rally ever" and "a life changing event" are just some of the many tributes that have been paid by competitors on the 2008 event...

See the LBL08 page for full results and more photos.

On July 11-22 2018, the Liège-Brescia-Liège Rally took 10 days (plus a day off mid-event in lovely Ljubljana) to follow the same route as in 1958, 60 years after the original rally, and was enjoyed by significantly more microcars than took part in the original 1958 event. This touring event covered approximately 200 miles (330km) each day, with competitive tests on private tracks in Italy and Germany combined with sheer endurance to establish worthy winners. Crews plotted the route on Freytag & Berndt and Michelin maps from the original list of place names, adding navigation to the challenge. Further interest was added by visits to the impressive BMW Museum at Munich, the charming Boxenstop Museum at Tubingen, the fascinating motor museum at Engstingen, the newly revamped Automuseum Wolfegg, housed in a magnificent castle in Germany, and the stunning Schloss Lichtenstein...


In 2019, it was the turn of Triumph TRs, who took the rally to their hearts more than any before and made it the most competitive - and fun - event we've ever run. See the photos here and read the TR Register's own report on the rally here.

For 2022, it will be the turn of the MGs. We stay at the very best hotels along the route. In Brescia, we stay in the spectacular Villa Fenaroli Palace (below left), while on our Irish rally 'The Craic', we stay in the most stunning hotels including The Merchant in central Dublin (below right) - we believe that classic car rallying should be challenging, but there is no need for roughing it: at the end of a hard day's driving, navigating and sight-seeing, we want to see you relax and enjoy yourselves! See the Links page for all the hotels we use, and some we have used in the past.