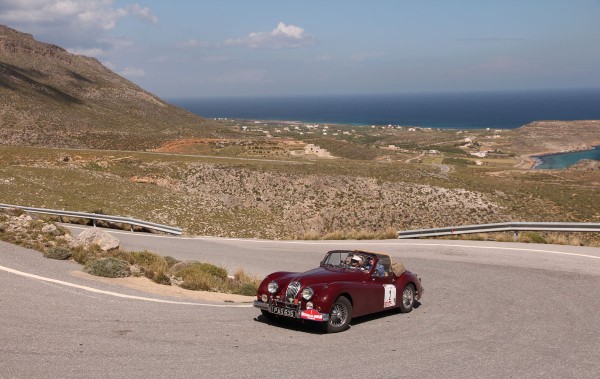 Greece, here we come! The Mycenaean-Minoan Rally-Tour 2019 was a huge success, and demands to be repeated and opened up to a wider range of cars: so it will be held again on April 7-25, 2024. Contact us now for more information!
This is a very special event indeed: 18 days, taking in all the wonders of ancient Greece and Crete, combined with fun driving on truly spectacular and mostly deserted roads, terrific hotels in often spectacular settings and the great camaraderie that is so characteristic of our events. This time the event will accept all classic cars, divided into appropriate classes - but with a maximum of 25 cars as our superb hotels cannot all accept more.
Here's what participants on the last XK & E-type event said...
It couldn't have been better, brilliantly organised… The hotels were splendid…
Organisation was immaculate and the choice of routes was inspired…
As a rally fi rst-timer, I'm not sure it could be beaten…
A fantastic event, we thoroughly enjoyed it…
The hotels and catering were really of an excellent order…
A superb rally which we really enjoyed: your organisation was impeccable…
If you like the sound of that, email us now and we will be happy to answer all questions, and to send you the Regulations and Entry Form.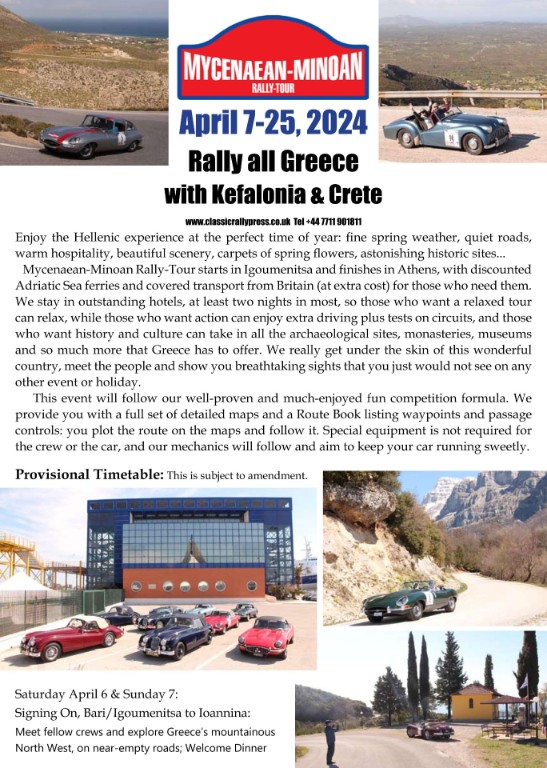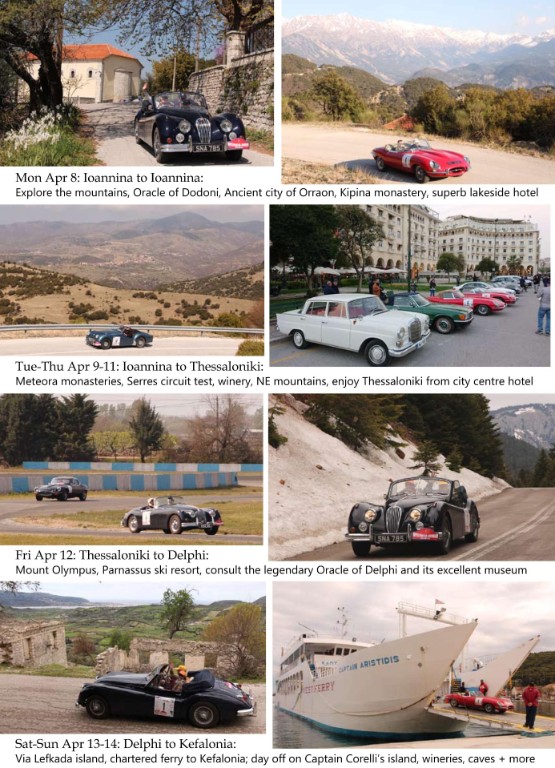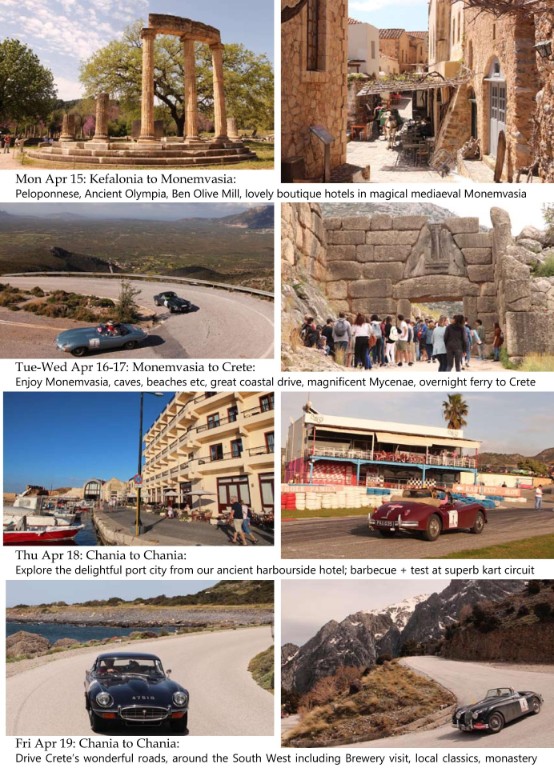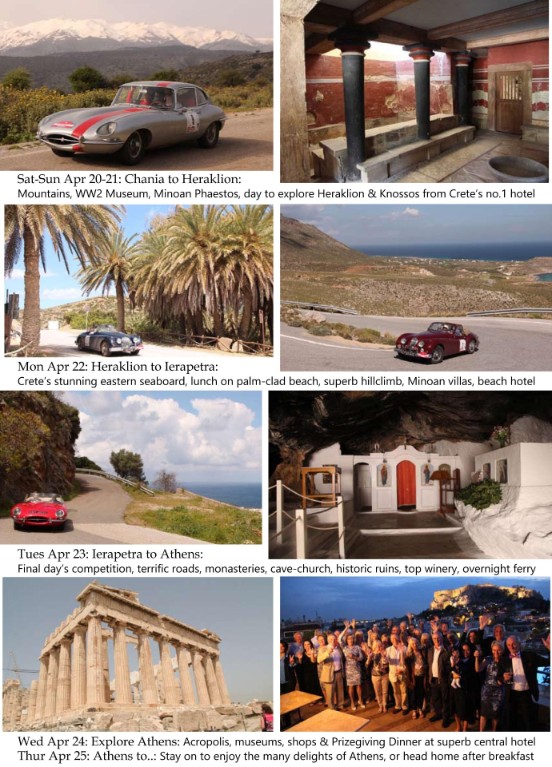 We can recommend ways to get you and your car to the start, which will be at the port of Igoumenitsa in the NW corner of Greece where the ferries from Italy land. One option is to send your car by covered transporter from UK to Bari, from where the ferries to Greece sail, then fly to Bari to catch up with your car there. The return will be from Athens port, and prices are very competitive compared to the cost of driving all the way. Alternatively UK and northern European entrants can drive down in 2-3 days, and return in the same timescale.
From Igoumenitsa, we spend a couple of days exploring the beautiful lakes and mountains of the north-west, staying at a delightful lakeside hotel with lake view rooms for all. Then we head east to Greece's co-capital, Thessaloniki, staying in a beautiful hotel right in the main square of this vibrant, historic city and exploring the many breathtaking sites around. From there we head to central Greece - taking in the unmissable Delphi - and back west to cross on a specially-commissioned ferry to the delightful island of Kefalonia.
Next on route is the Peloponnese, the southern part of Greece and home of the Mycenaeans: here we will fill three small hotels in a breathtaking mediaeval castle village, on a promontory jutting out into the Mediterranean. After two nights there, we take the ANEK Lines ferry to Crete...
Wonderful Crete, stunning scenery, fascinating history, glorious beaches and more deserted, delightful roads. We have even found a Stelvio-beating hairpin road winding from the seaside to 800m, super-smooth tarmac, wide and empty... Home of the Minoans, Crete is full of fascinating historic sites too, and we have three delightful hotels lined up, one right on the harbour at Chania another at Heraklion and the third on the beach at Ierapetra.
We will return overnight to Athens and one of its finest hotels, with stunning views of the Acropolis and time to explore this cosmopolitan city of living history. Stay on if you wish, heading home when you're ready - full of memories that will last a lifetime.